I think all men love chopping logs, even those who think they don't. I realise that these days, that statement alone, could get me into all sorts of trouble.
There is something inherently masculine about chopping logs but for me, the primary benefit comes down to one word…
Focus
If I'm not fully focused on the log before me – regardless of size and perceived level of ease to crack it open – I will almost invariably not hit the log where I intended.
I've even noticed recently, how if someone I don't know may be watching me – like a tradesman for example, working high up, on a neighbour's house – I get a bit nervous, (okay, self-conscious!) and can easily miss my target.
I even tried chopping logs one day, whilst listening to a podcast, or some music.
It went badly.
Don't worry, I didn't hurt myself or anything like that.
But I missed my target so many times, I had to stop listening to any extraneous noise.
It turns out, that for me at least, if I am going to be consistently accurate in my log chopping, I have to become very single-minded about it.
Totally focused.
When I am fully focused, however, even if I only make a partial dent as it were, in a particularly stubborn log and need to hit it in the exact same spot a second time, guess what happens?
I almost always hit the exact same spot, and the log splits instantly.
And if it doesn't crack open the second time, I'll hit it again and again in the exact same spot until it does.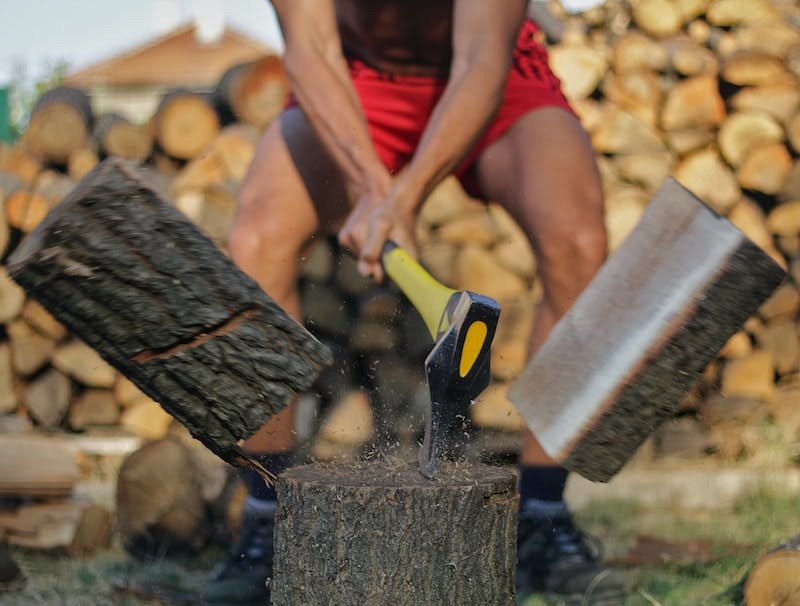 Am I an expert, axe-wielding, log-chopping man?
Of course not.
Do I believe there is an obvious principle attached to focus when it comes to chopping logs?
Absolutely!
Do I think we all need reminding of this principle.
Obviously.
So whatever it is that you are aiming for this year, find something that will help you focus on what it is you really want to do.
If it's chopping logs, go chop some more (without any distractions, for your own safety's sake!).
If it's going for a walk, get out and about even more.
If it's taking a moment to reflect and refocus, do that even more than you have been doing.
if you're anything like me, you may feel like it's been a bit of a sluggish start to the year, whether that's because of a bit of annoying sickness, or pure distraction in all the wrong places, or plain old lack of motivation.
Whatever it is that's been getting in your way, take an axe to it (figuratively speaking for most of us of course!) and hit the mark.
And if it's like one of my very thick, stubborn logs, don't stop until it cracks open. it's so satisfying!
Until next time, be blessed to be a blessing!